Specifications:
Material
60gsm /70gsm medical grade paper/Frech Arjo paper+52 micron CPP/PET compund film(white/blue/green/purple)
Sterilization Methods
Ethylene oxide(ETO and steam)
Indicators
Initial pink turns brown/yellow(when EO gas processed)
Initial Blue turns grey black(shen vapor or steam processed
Feature
Triple Seal & Heat processed
Self adhesive seal,don't need any machine to seal it
Good bacteria resistance
Complete Film and Paper Separation
Quality Syesterm
Manufacturered in a facility holding the ISO13485.
Manufacturing Steandard
conforms into ISO11607 and EN868.
Storge
Store in a dry,clean pleace with a temperature 25 degree and humidity below 60% is recommended
Packaging
200 Pouches into a inner box
Shelf time
3 years from the manufacturing date
The artwork of our Self Sealing Sterilization Pouch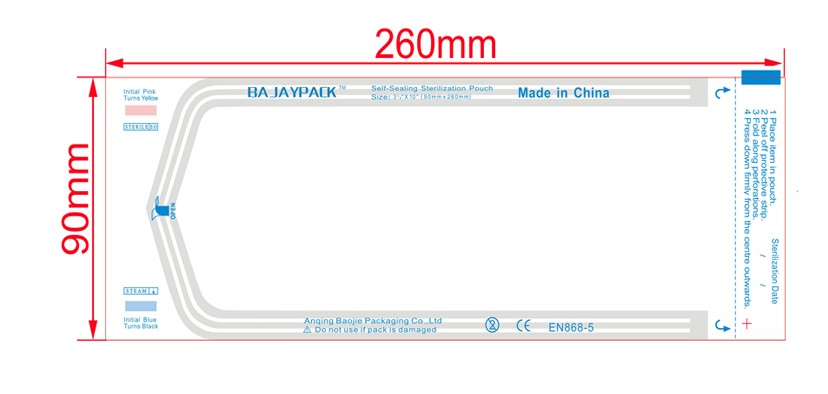 Usage:

are used by dentists,salons,hospitals,spas,tattoo arttists and many other types of medical facilities to enable the sterilization and storge of surgical instruments,medical gloves and wond care suppliers prior to use.
     WHY BAJAYPACK Self Seal Sterilization Pouch      
√made of 60gsm/70gsm Medical grade paper /French Aroj Paper + Blue/Green CPP/PET compound Film
√Tinted Film,see interior items clearly 
√Excellent Peelablity
√Easy Opening thumb notch on every pouch
√Non-toxic, good tensile strength, good sterile barrier
√200PCS/Box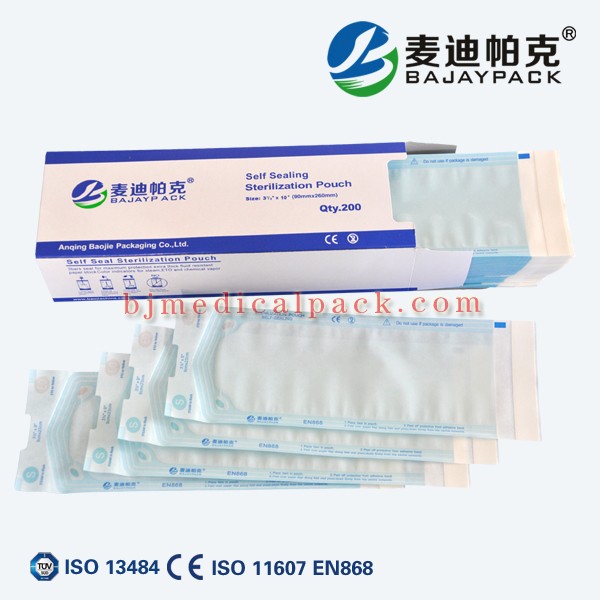 √Quality in accordance with ISO11607 and EN868 standard.
      PRODUCT     SHOW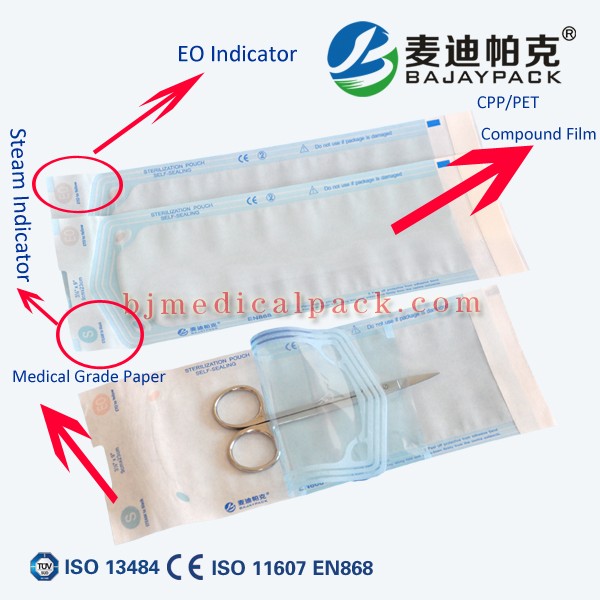 The indicator color changed as below: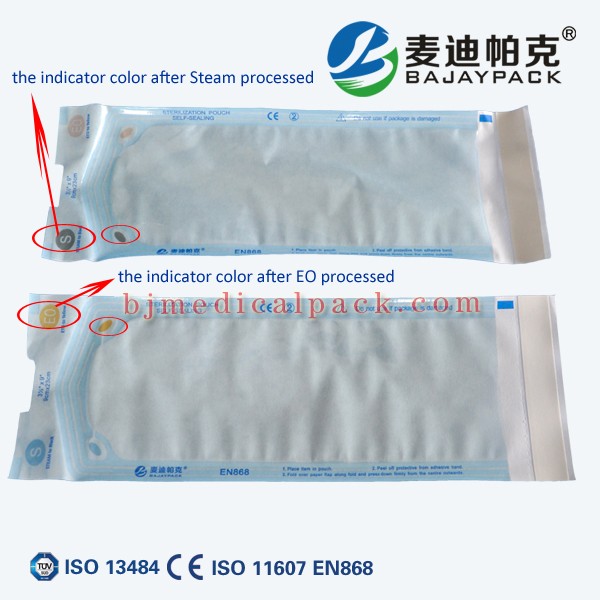 The use instruction of Self Sealing Sterilization Pouch 
Insert items into unsealed pouch
Peel off protective strip from adhesive band
Fold flap on perforation and press down firmly
Do Not Drop items into pouch